Filter by Subcategory
South Asian Heart Center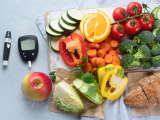 87738 - STOP-D™: Stop Diabetes Before it Starts
with Erika Deshmukh MS, RDN, CDCES, dipACLM, MB-EAT

Next available session starts Mar 29, 2023 at 5 pm
STOP-D is an engaging yearlong, CDC Full-Plus Recognized National Diabetes Prevention Program, aimed at losing body weight in a sustainable way to lower blood sugars and prevent and/or better manage diabetes. This high-touch, comprehensive and structured program, includes interactive zoom classes, your own personalized lifestyle coach, meetings with a registered dietitian, group support, and much more!
Classes are Led by Registered Dietitian and Certified Diabetes Educator Erika Deshmukh MS, RDN, CDCES, dipACLM, MB-EAT. Erika has more than a decade of extensive experience leading DPP sessions with a passion for lifestyle change, mindful eating, and healthy hearts. 
STOP-D includes:
- Comprehensive clinical and lifestyle risk assessment
- Detailed recommendations based on your profile
- 22+ interactive zoom sessions covering the National Diabetes Prevention Program curriculum
- 4+ evidence-based workshops on Lifestyle MEDS (Meditation,Exercise,DietandSleep)
- 14-16+ personal coaching sessions
- Group/social support and weekly motivations
**Payment does not include comprehensive laboratory tests fee of $100
Building Your Health Investment Plan
with Ashish Mathur

Next available session starts Apr 14, 2023 at 12 pm
1 additional session on May 12, 2023
We spend considerable time developing and executing our well investment plans. It is as critical to build a health investment plan. The good news is that your health investment plan can parallel the age-old and proven strategies utilized by wealth investment experts to manage your wealth.
Join this free workshop to develop your own health investment plan using these wealth investment strategies. Learn how you can leverage El Camino Health's flagship AIM to Prevent program to embark on this journey. Understand the methodology, program highlights, curriculum, and coaching interventions.
AIM to Prevent is a lifestyle-based, screening, education, and personal health coaching program to reduce the risk of chronic diseases such as diabetes and heart disease, enhance well-being, and promote successful aging.
87738 - Insights with Real-Time Blood Sugar Monitoring
with South Asian Heart Center Staff

Next available session starts May 2, 2023 at 12 pm
Ever wonder about the impact of your lifestyle on your blood sugar levels?
What happens to your blood sugar when you eat? Or exercise? Or are stressed?
Would you like to uncover your hidden glucose patterns and get a complete picture of where your glucose has been and where it's going?
Now you can! With the advent of continuous glucose monitoring, you are able to correlate your lifestyle habits with the efficiency of blood sugar regulation in your body in real-time.
Join this two week program to observe your blood sugar levels on a continuous basis. You may even get to experiment and understand how tweaking your lifestyle may affect these levels. 
You are eligible to register if you meet the following criteria:
You are a first time CGM (Continuous Glucose Monitor) user
You are not currently diagnosed with Type-1 diabetes
You are not currently pregnant
You have no prior history of hypoglycemia
You have a healthcare provider who will prescribe a Freestyle Libre 3 device for you
Please register ONLY if you meet ALL of the eligibility requirements.