Filter by Category
Yoga and Meditation Class for Cancer Survivors and Caregivers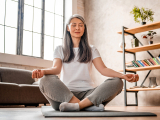 [Virtual Class] Yoga and Meditation Class for Cancer Patients and Caregivers
with Meera Chari

Next available session starts Sep 28, 2023 at 10 am
60 additional sessions through Dec 26, 2024
This weekly Yoga and Meditation class begins with mindful meditation, followed by gentle, relaxing yoga exercises and breathing techniques designed to improve flexibility and wellness. The free class is specifically designed for cancer patients, survivors, and caregivers and is ideal for all impacted by cancer.
The class is offered by Integrative Healing, a non-profit organization, focused on an integrative approach to cancer treatment to boost the healing of patients impacted by cancer.
The class is led by Meera Chari, an experienced, certified yoga teacher. She has a deep understanding of patients who are going through different stages in their treatment and is able to adjust the class to meet their needs. The class size is small to facilitate close attention from the instructor. The class is on Zoom online, to practice in the safety and comfort of your home.
Online Event Instructions
For more information and registration to join Zoom Meeting, please contact the Cancer Center at 650-988-8338.
Meeting Frequency
This class meets on Zoom online weekly Thursday unless otherwise noted.
Disclaimer: If you've registered 48 hours before the class, it is not a guarantee of your registration for this date and time.
Yoga and Meditation classes are sponsored by El Camino Health Cancer Center.