Filter by Category
Qigong for Cancer Patients, Survivors and Caregivers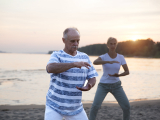 [Virtual Class] Qigong for Cancer Patients, Survivors & Caregivers
with Edith Chiang

Next available session starts Oct 2, 2023 at 12:30 pm
92 additional sessions through Sep 8, 2025
Qigong ("chee-gong") 氣功 is an over five-thousand-year-old Chinese health method that combines slow graceful movements with mental concentration, breath, balance, and meditation.
Online Event Instructions
For more information and registration to join Zoom Meeting, please contact the Cancer Center at 650-988-8338.
Meeting Frequency
This class meets on Zoom online weekly Monday unless otherwise noted.
Disclaimer: If you've registered 48 hours before the class, it is not a guarantee of your registration for this date and time.
Qigong for Cancer Patients is sponsored by El Camino Health Cancer Center.