Filter by Subcategory
Heart Forum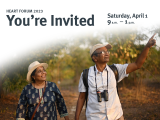 Online Registration Unavailable
Heart Forum 2023

Next session starts Apr 1, 2023 at 9 am
Finding Your Way to Heart Health

Your health can often be a winding journey with many twists and turns. It can be hard to know which path is the right one on the way to better health. At the Norma Melchor Heart and Vascular Institute, our goal is to provide a guiding hand and lead you down the path to your best heart health. Join us for this year's Heart Forum. 
Learn about the prevention and treatment of heart and vascular disease, along with the latest advancements in care through interactive discussions with world-class physicians and heart experts.